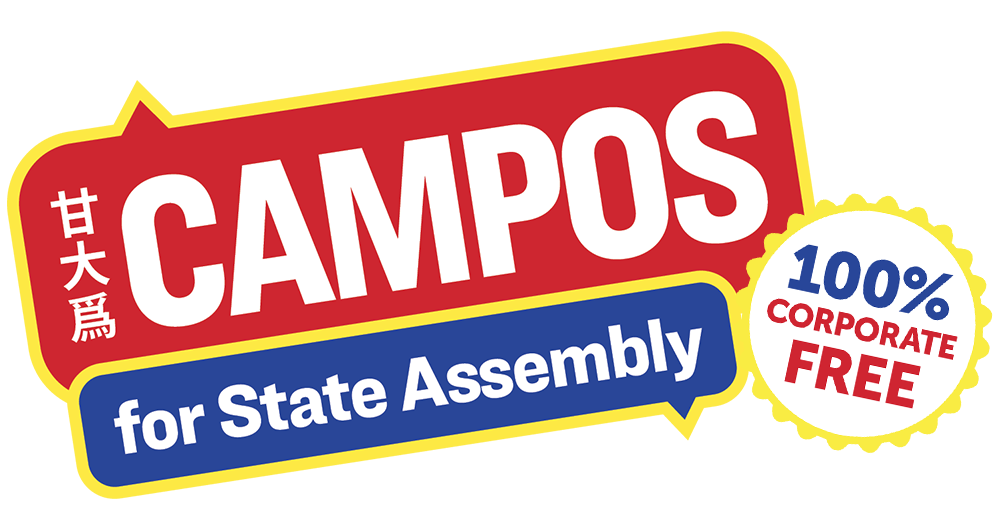 Because it's time
all of us are heard.
Because it's time
all of us are heard.

David Campos is the corporate-free candidate fighting for an economy that works for everyone
because we've had enough broken promises. It's time for results.
Join our campaign and stand up to big corporations and billionaires so we can:
YES
– I Support David Campos for Assembly!
David Campos is mounting a campaign for State Assembly because it is time all of us are heard.
The powerful have their say. But as we struggle to recover from COVID-19, it is vital the communities who have suffered most are finally and fully heard in our State Capitol.
David Campos is organizing a grassroots and corporate-free campaign for State Assembly so underserved communities will have one of their own speaking out for them in Sacramento. San Francisco has never elected a Latinx individual to represent the City in the State Legislature. With David, the eastside of San Francisco has the opportunity to elect its first state representative who is formerly undocumented, gay, and Latino. 
For the last year, underserved communities, especially communities of color, have been heavily impacted by the COVID-19 pandemic. AAPI owned businesses and seniors were the targets of hate crimes, due to anti-Asian sentiment driven by the Trump administration. The lack of healthcare access in historically Black neighborhoods was a direct result of the history of racism we have not yet fully addressed. Statewide and locally, the Latinx community experienced the highest rate of infection and death. 
David Campos will be an authentic community champion fighting for us in Sacramento – If you believe that representation matters, join us today.
YES
– I Support David Campos for Assembly!
David came to this country as a Dreamer at the age of 14 – crossing the border with his sister on his back, as they escaped political turmoil in their native Guatemala. David and his family settled in Southern California, where his mother worked as a janitor, and his father, a carpenter. He learned English in public schools, before earning scholarships to Stanford and Harvard law. As a young man, he came out to his family and friends, and he is now married to his husband of 20 years.
He went on to serve as a San Francisco Supervisor representing District 9, where he won important battles to provide healthcare for all, enact the state's first PrEP access program to stop the spread of HIV, and save St. Luke's Hospital. He has fought for equal pay for women, and lead efforts to to build more affordable housing, pass stronger eviction protections, and win back workers' lost wages and benefits. As a progressive leader and Chair of the San Francisco Democratic Party and now the Vice Chair of the California Democratic Party, David fought to defeat Trump at the ballot box, protect a woman's right to choose, and make the wealthiest corporations pay their fair share so we could house the homeless. 
YES
– I Support David Campos for Assembly!
After serving his district for two full terms, Campos worked as a Deputy County Executive in Santa Clara County, where he led the establishment of the Division of Equity and Social Justice and the Office of Labor Standards Enforcement. During this time, David also oversaw implementation of the county's $950 million housing bond which is spearheading the construction of supportive housing to address the growing crisis of homelessness. Serving as the county's Chief Public Information Officer, Campos was instrumental in helping to reduce the spread of COVID-19, prioritizing protecting the most vulnerable.
David also worked in the San Francisco District Attorney's office, where he fought to make sure every San Franciscan could have safety and justice in their communities. He worked to address anti-Asian hate, pushed for accountability at every level of our local justice system and worked to help repair the relationship between law enforcement and the communities they serve to help make us all safer. 
David currently serves as Vice-Chair of the California Democratic Party – where he has fought to:
We need to elect a leader who will fight for all of us. Make sure our voices are heard by
joining us today!